May 19–21, 2023 | PROVIDENCE, RI
In celebration of Marshall Allen's 99th birthday and the 109th anniversary of Sun Ra's arrival on earth, Courtland Club presents SUN RA WEEKEND.

The weekend will take place in Providence, RI and consist of an opening party on Friday May 19 at Courtland Club, followed by a double feature SUN RA ON FILM screening of Space Is The Place and A Joyful Noise at The Columbus Theatre on Saturday May 20, and culminating with a concert headlined by The Sun Ra Arkestra, with support by Shabazz Palaces and The Leland Baker Quintet on Sunday May 21 at The Met.

This will be the first, and possibly only, time that The Sun Ra Arkestra and Shabazz Palaces will perform together. Both artists are currently featured in the exhibition AFROFUTURISM: A HISTORY OF BLACK FUTURES at the Smithsonian National Museum of African American History & Culture in Washington, DC, in which Sun Ra is positioned as a founding figure of the movement. The show will be opened by The Leland Baker Quintet. Baker leads Courtland Club's wildly popular weekly Sunday Live Jazz programming, and in March was named Music Education Manager by the Newport Festivals Foundation.

Marshall Allen joined The Sun Ra Arkestra as a Saxophonist in the late fifties, and took over as the band's leader upon Sun Ra's passing in 1993. In addition to the sax, he plays the flute, piccolo, oboe and an electronic instrument called the EWI. He will turn 99 years old on May 25. The same week marks 109 years since Sun Ra's arrival on earth in 1914 as Herman Blount in Birmingham, AL. Sun Ra claimed to be not a man, and not from earth, and so this date is celebrated by fans and scholars as an anniversary rather than a birthday.

Shabazz Palaces is led by Ishmael Butler, also known for his founding and leadership of Grammy-winning trio Digable Planets. Butler cites Sun Ra as an influence and many journalists have drawn a correlation between the two artists in print. Shabazz Palaces has released albums through Sub Pop and Third Man Records.

Courtland Club is a cocktail bar, founded in 2017, in a building in Providence's Federal Hill neighborhood that housed bakeries and social clubs going back 100 years. Courtland has been hosting weekly Live Jazz on Sundays since 2019. This concert marks the first time that the Club will take its Sunday Jazz programming off-site, bringing its imaginative craft cocktail and food service along with it.

---
GET TICKETS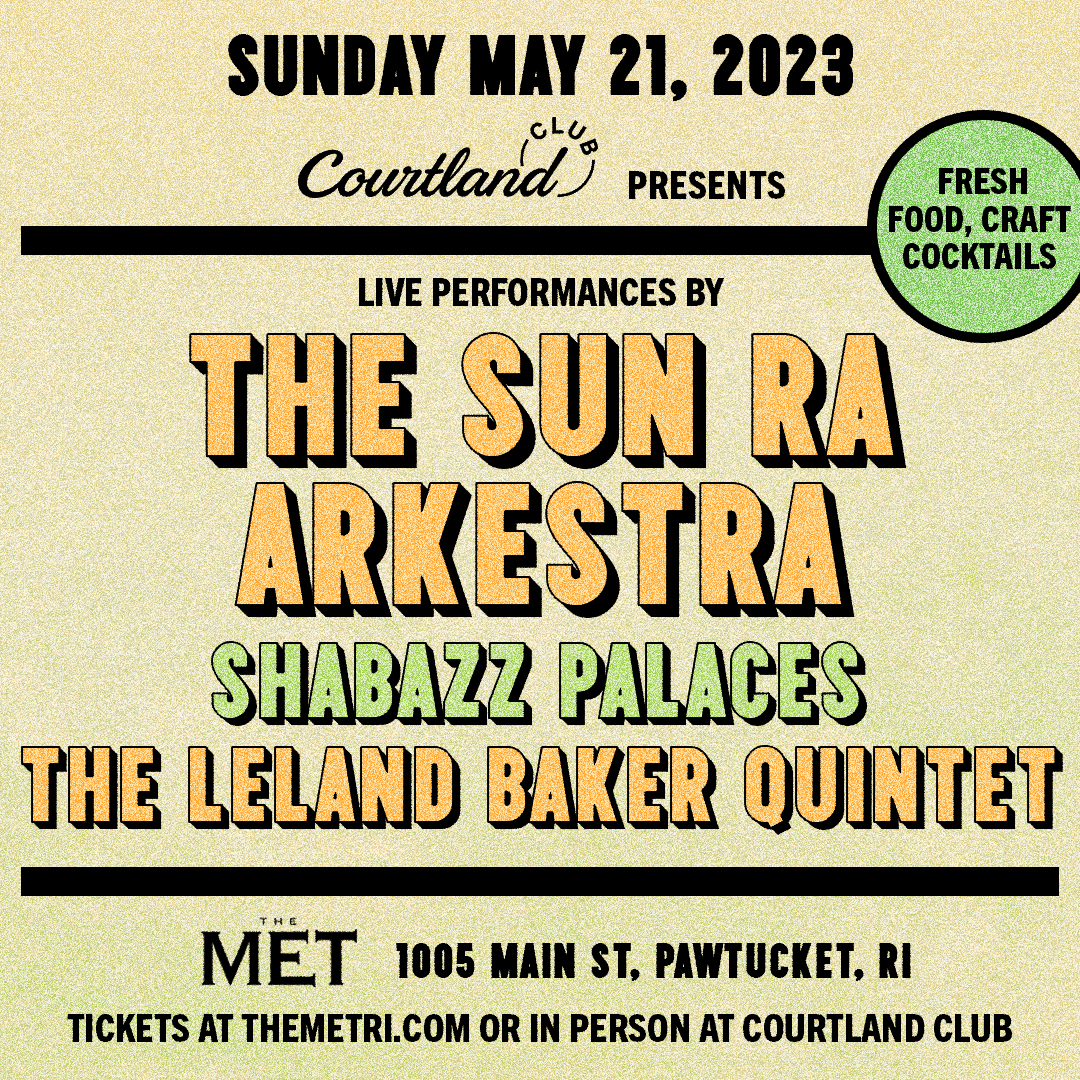 Tickets are available now for The Sun Ra Arkestra live in concert with Shabazz Palaces and The Leland Baker Quintet
Tickets are available now for
SUN RA ON FILM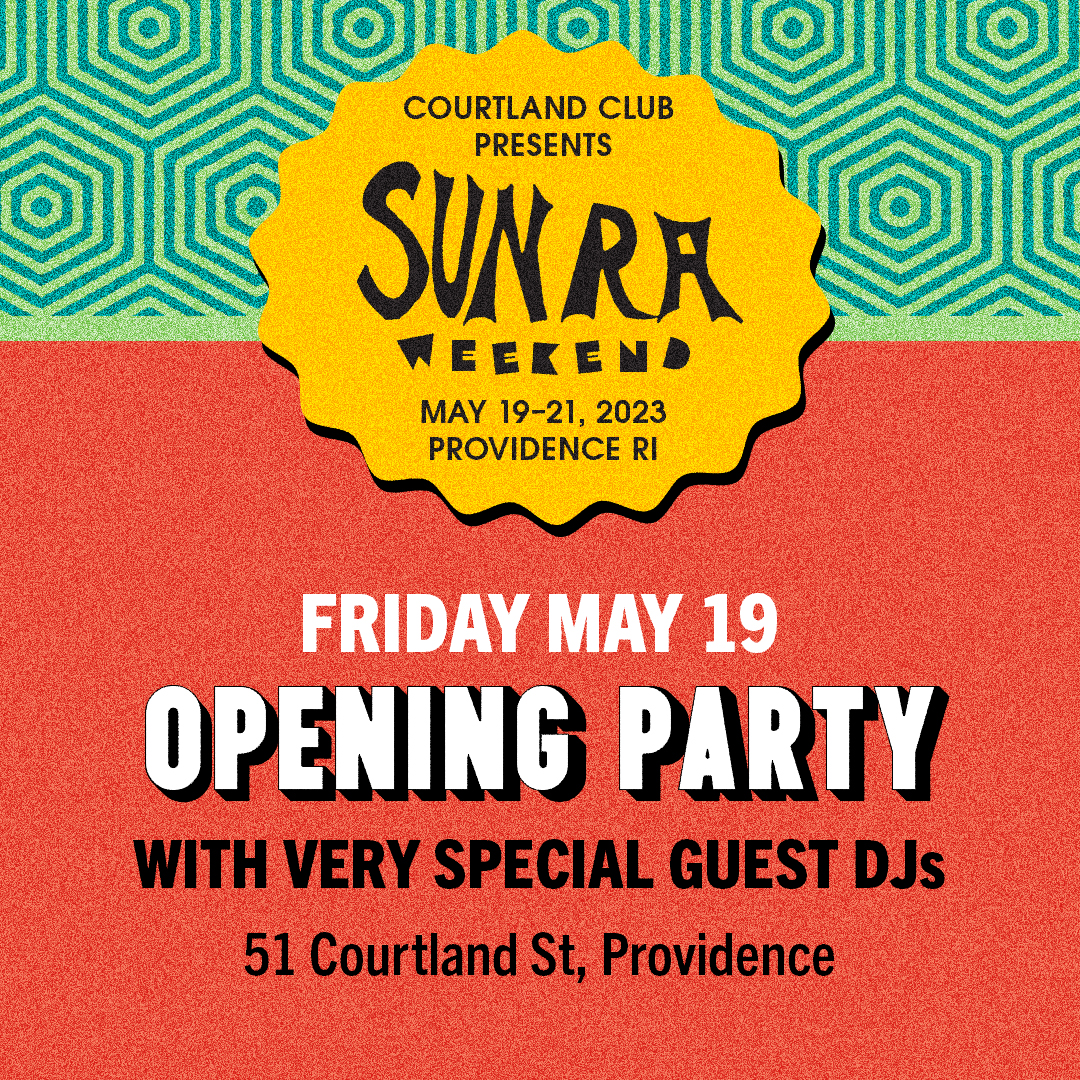 An eclectic all-vinyl music marathon from 5pm til after midnight with sets by Edan, DJ Manipulator, Seaspray Jay and more...
---
---
SPIRIT PARTNERS
OFFICIAL VERMOUTH
OFFICIAL VODKA
OFFICIAL TEQUILA
OFFICIAL WHISKEY
OFFICIAL RUM